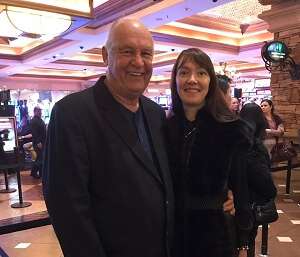 Tim & Natasha
Since 2015, we hired Laurie to handle our immigration cases (fiancée visa, adjustment of status and citizenship). We could not have made a better decision. Laurie takes care of all the details and is very professional. It was money well spent. You will not be disappointed.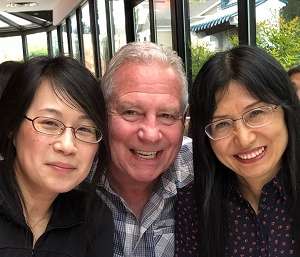 Kenny & Mei
Laurie has assisted me (Kenny) since 2010. When we met, I was based in Vermont (still is) and she in New York. We later discovered that our hometowns in New Jersey are 20-minutes apart. She first helped me file my K1 fiancée visa application for my ex-fiancée, which I later withdrew. In 2015, she help my current wife (Mei) with our K-1 visa and then adjustment of status. All along, Laurie took time to listen to our concerns and addressed them in a thoughtful and caring way. Her advice was both helpful and reassuring. She was available to us both outside of normal business hours. Laurie has earned our trust, and I recommend her without reservation.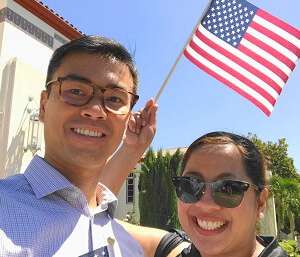 Lin & Sheila
In 2016, my wife and I (green card holder) hired Laurie to help us with our spouse visa. Laurie knew our case details so well that it was like having a trusted lawyer friend handle our case. She is highly professional, extremely meticulous, and very responsive. Most importantly, she is able to explain very complicated processes in the simplest terms. In 2017, I hired Laurie to help with my citizenship application. Laurie provided the same level of service as before.
Peter
My wife and I hired Laurie Wu to help my wife return to the US on a Spousal Visa from China. My wife previously came to the US on a K-1 visa in 2011, which Laurie also helped us on. We filed for removal of conditions ourselves and while the application was pending, my wife had to return home to care for her mother and we didn't respond to the government's request for additional evidence in time. For the Spousal Visa application, we attempted it on our own for a few weeks, but discovered we were in over our heads with deciding which forms to use, and even how to properly and accurately provide some of the required information. Laurie provided us with all of the required forms (completing some of them for us), carefully explained what supporting documents to provide, and even where to locate most of it. During the entire process, Laurie patiently responded to our numerous questions and concerns, often on weekends and several evenings as well. My wife had a successful Visa Interview about 3 days ago, thanks to Laurie. She'll have her Visa very shortly and will be returning to the US in a month or so. We appreciate all the time Laurie spent with us, and would truly recommend her to anyone.
Kassandra
I retained Laurie after my spousal visa interview in Manila and the Embassy requested additional documents. Laurie has been very helpful from day 1 during the free consultation call. We felt her friendliness and sincerity and that's why we decided to get her assistance. She was patient enough to answer all my questions and concerns (regarding Domicile/Sponsor issues) up to the day my visa got approved. Laurie was consistent with answering all our follow up emails and reviewing all the documents we submitted. Her knowledge, friendliness, and assistance are very much appreciated by my family and I, and we are glad that she was there to help us out.
Former Client
I hired Laurie to help me with the K-1 visa she help me with all the paper's I need. When I file them out I send them to her to look over them and till me what I need. It's may 19th 2017 I am in Bogota's Colombia right now just got back from the embassy we got the K-1 visa. Thank you, Laurie, for a good job. Hiring you Laurie was the best thing I have Ever done. Thanks again.
Al R.
Laurie Wu is fantastic. My wife Yuqin and I hired her to do my wife's K1 visa a few years ago. My wife is from China and it is a difficult and timely process. Laurie's expertise is amazing. Last year we hired her to help with my step-son's visa application as we have the utmost confidence in her. Yesterday was my step-son's interview and he was approved without any delays or issues. Laurie always returns emails and calls immediately. She speaks Chinese which is very helpful in our situation. She is very precise and on top of things. I deal with a few attorneys and most are not efficient like Laurie.
Dan
Laurie was very helpful getting through the visa maze for my fiancée. She was very responsive and explained the process clearly. I am glad I used her and would do so again.
Sheila
We hired Laurie to help us with our spouse visa. As a frequent expat, I have used several immigration firms -- from big companies to small boutique firms -- and I can honestly say that Laurie is, hands down, the best I have worked with. While we never met in person, Laurie knew our case details so well that it was like having a trusted lawyer friend handle our case. She is highly professional, extremely meticulous, and very responsive (whenever we receive an email from the USCIS, Laurie will usually already have sent us a follow-up email explaining what it means and the next steps – before we've even read the USCIS mail!). Most importantly, she is able to explain very complicated processes in the simplest terms. We highly recommend Laurie, and will definitely use her services again in the future.
Brett
I was very pleased and presently surprised with the service I received from Laurie. She always returned my emails and was very friendly on the phone. She also took time to explain the visa process to my fiancée and help her with questions she had. I cannot say enough positive things about Laurie's service.
Darin
Laurie exceeded both my and my Fiancee's expectations with helpful advice, clear timelines and prompt guidance and direction. She made both myself and my fiancee comfortable with the process and answered our question accurately and in a manner, we could easily understand.
Wadis & Helen
Laurie Wu has helped my wife and myself to secure a Marital Visa, for my wife to enter the USA from China. Laurie has demonstrated beyond our expectations, of being understanding, kind, and very serious about her job and commitment to our case. Her commitment and help was available all the way through, and beyond our Visa approval, and being obtained.also had an assistant in China to meet my wife to organize all the documents needed for her interview. We could not have ever found a better or efficient, hard working Attorney anywhere I highly recommend Laurie Wu.Thanks a bunch Laurie, you have made us a very, very happy couple and family.
George
It did not take me long to see the Laurie is indeed in a league all by herself. She is truly a pro at her job and knows all the in's and outs of K-1 Visas land. Her attention to detail is amazing and she is like a personal coach, making sure you make all the right steps during the process. I would without hesitation recommend her services to anyone interested in pursuing a K-1 Visa.
Ash
From the first time I spoke with Ms. Wu, she was respectful, knowledgeable, very prompt and professional. She never let my phone call or email go unanswered for days -- she always responded so well and quickly with good information. Laurie helped my in-laws from China get their visas to visit my wife and I in the US because we are expecting our first child -- it would have been quite sad if they could not come. Laurie spent so much time with me explaining what needs to be done in a clear concise way and also made my in-laws feel at home and advise them promptly in terms they understood and could quickly act on. Because of her 1-on-1 phone interview with my in-laws, my in-laws were 100% more prepared for their interview. The first time my in-laws tried this, we did it without a lawyer's help and that was a huge mistake on my part!!! Always go with a lawyer. The peace of mind you get is priceless plus it wins huge points with your in-laws 🙂 Thank you, Laurie, for being part of our family's joyous time and making it possible for the entire family to be together for the birth of our daughter! I wish I had come to her first for my wife's
Dan
As we all know being separated from a loved one is quite difficult, and every day matters. I have had one experience procuring a visa for my fiance many years ago,(what an exasperating experience) and Laurie was more than twice as fast as doing it on my own. Laurie is extremely responsive, as I can attest to her even working/taking calls on the weekend to make the process go faster. Also, it should be noted that Laurie's voice is a valuable asset, let me explain. Everyone knows how international phone lines voice quality is awful. Laurie's voice is extremely clear, and her English is perfect, so it makes it much easier to hear and understand her perfectly on long distance international phone calls. To say I am thankful for her professionalism would be an understatement, I got lucky finding Laurie Wu. Furthermore, Laurie is a Patriot because she allows a military discount. In conclusion, it would be smart of you to hire Laurie Wu.
Former Client
I recommend attorney Laurie Y. Wu. She is reliable, detailed oriented and sharp. She helped me to get my son's green card. She was very professional and passionate about completing my son's case. Anytime I called her about a concerned I had, she has always been there assuring me that my son's case will be approved.
Greg and Jin
Laurie was a very helpful Attorney, she helped us get my fiancée visa. We had a couple of potential red flags to deal with and Laurie knew just how to handle them. Laurie's law firm is in a different state into which I live, but this wasn't a problem at all, she kept in contact in all the different ways. Laurie's fluency in Mandarin also helped my fiancée feel comfortable. My fiancée and I high recommend Laurie she is very professional and we probably couldn't have done it without her. Thank you, Laurie
Tobi
Laurie most recently helped my wife and I remove the conditions from my green card. In 2012, she helped us with K-1 fiancé visa and then helped me get my conditional green card. The entire process then and now went smooth without complications. Because of her attention to details, we didn't need to submit any more evidence and didn't have to go for any interview in order to obtain my 10-year green card. We know she has many clients, but she treated our case like we were her only clients. Not only is she hardworking, she is also very professional and reachable. I'm so glad my wife and I found her. Her fees are very affordable, and I highly recommend her to everyone.
Aurielle
Laurie is very professional and works very fast. She always helps me with the papers and answers all my questions in a short time. She listens to her customers. It took 5 months for me to have my visa in my hand and I want to say thank you for it. Now my fiancee and I are married. I definitely recommend Laurie and I'll continue to work with her in the future.
Paolo C.
My wife and I feel very grateful for all of Laurie's services. Her organization skills and efficient ways of handling matters made the path to my wife's green card simpler and clearer. Communication was never a problem as she replied to all our emails at a timely manner, even during weekends. Also, Laurie's instructions were very detailed, but not overwhelming. We understood all of her explanations and knew exactly which documents we needed to gather in order to submit. We also found that her attention to detail have even led her to finding errors that my wife and I have overlooked during our parts of our immigration process. During our phone calls, Laurie was very cordial and friendly. She patiently took the time to mentor us and even had a few laughs along the way. Most importantly, Laurie is very friendly and pleasant. During this time in our lives, my wife and I have become extremely busy and have been scrambling to prepare a new home for a baby that is on the way. With Laurie, we rest assured that our immigration matters were being taken care of and put my wife and me at ease. Her kind demeanor made us feel comfortable with her and knew we could put our trust in her. Overall, Laurie is very professional, kind and beyond helpful. We highly recommend her and we would definitely continue to seek her services again in the future.
Debasish
Laurie provided truly outstanding service from start to finish. I was a bit anxious about the outcome of the K-1 visa for my Chinese girlfriend before I had Laurie as my attorney. Once Laurie started the application process I was reassured that I was in the best hands possible. She has intimate knowledge of the application process and how to present the best possible application. Laurie has an incredible attention to detail. She responds to every question in a timely and clear fashion. Her approach is personal and friendly. Her fees are very reasonable and the refund policy extremely fair. It has been a real pleasure working with Laurie and I am very grateful. I would highly recommend Laurie to anyone looking for immigration services.
Stephen
I found Laurie after a lot of research because choosing a good lawyer for immigration purposes, especially for my wife, is extremely important. I found Laurie to be extremely helpful in all areas of the process. E-mails were promptly returned and answered in complete detail. Documents, explanations, interview help and all other sorts of hassles and frustrating parts of the process were handled expertly, without stress--and with a friendly touch. The entire process went so much easier than it could have, and I hired her not only for the immigration process to the US but also for the green card application. She put both myself and my wife at ease and I would not hesitate to hire her again.
Former Client
I think one of my greatest strikes of luck on Google was finding Laurie's contact. My fiancé and I were in the middle of trying to go through the K1 visa on our own and we found Laurie and having her with us during this process was the best decision we've made in a while. She has always been nothing less than a nice and real person, guiding us in a very calm way through the K1 visa process. She has the knowledge to answer most of your answers on the spot and if that doesn't happen, she'll reply ASAP with a thorough explanation. She has always been patient with any crazy question asked more than a few times by us and has always shown that she really pays attention to details – she even found a mistake on my birth certificate that we would have never found! She's a very open person and even replies on weekends. Also, she was very okay with us being overseas and dealing with us through Skype, e-mail and mail. Conclusion: if you're in doubt on hiring a lawyer or not, from a couple that's gone with Laurie from the first step of the process and will continue with her during all the next steps of my fiancé's process, I would recommend her always! If you need more recommendation from me, feel free to contact.
Rizal
We contacted Laurie through a friend recommendation when we were looking for help processing a spouse green card. During our first conversation, she carefully listened to our story and provided valuable information to us. Talking to Laurie feels like having a conversation with a very knowledgeable friend. We decided to go with Laurie for a citizenship application and spouse green card, and it was well worth it. When an interview invitation was not forthcoming from USCIS, she was on top of it and immediately got us a faxed copy of the invitation. Without her help, I would have missed the interview. For spouse green card application, she gave assurances that we were proceeding correctly and that we would have the best chance possible to secure the green card. It was a very smooth process with minimal stress, thanks to Laurie. I would recommend her for anyone who might need an immigration lawyer, and I would definitely contact her for my future immigration needs as well.
Former Client
My husband and I got married and applied for my green card (adjustment of status). Attorney Laurie helped me prepare all of the necessary material. I filed the application in February and had my interview in July and was approved. Everything went smoothly and quickly. When I was preparing the paperwork and I was unsure, I would ask Laurie and she was very patient in answering my questions. Laurie previously helped my friend and my friend introduced me to Laurie. Before accepting my case, Laurie first inquired about my background to get a good understanding. I think this is a very professional and responsible conduct, which made me feel confident in her. We live are in different states and when I sent her emails, Laurie always responded by the next day. Laurie's Chinese and English is very good. My mother language is Chinese and we had no problems communicating. Because I am a new immigrant and not familiar with many things in America, I had many minor and detailed questions. Laurie would patiently answer my questions. If I have future legal needs or questions, I will continue to seek her help. She has my trust.
Brendan
Laurie Wu was excellent at handling our case obtaining a visitor visa for my mother-in-law who is a Chinese citizen. She is always very prompt and methodical and explaining details and preparing necessary materials. Her Chinese language skills were also very helpful in explaining the interview process to my mother-in-law who does not speak English. My wife and I have used Laurie before for immigration needs and services and both would and certainly will do so again. Her kind and caring attention to details and service are always excellent.
Kent
Laurie is a wonderful attorney. I have worked with her previously in the preparation of my step son's green card, and just recently hired her to prepare my Chinese wife's US citizenship application. Laurie has a great understanding of the requirements and process involved. She is very thorough and meticulous, more than once she caught something I missed in acquiring documentation. She detailed the process to us step by step, thus there were no surprises along the way. She is always prompt in responding to emails and courteous. I highly recommend Laurie, as I am convinced her work for us resulted in the citizenship application being a smooth and stress-free process.
Ken
My name is Ken and Attorney Laurie Wu prepared a K1 Fiancée Visa application for me and my Chinese fiancée. Laurie also helped me with my K-1 visa application for my ex-fiancée and I withdrew that application. All along, Laurie took time to listen to our concerns and addressed them in a thoughtful, respectful, and caring way. She replied to inquiries promptly, both to me and my fiancée in China. Her advice was both helpful and reassuring. She called my fiancée many times and spoke to her in her native language. She was available to us both outside of normal business hours. I feel she took the time to cover every possible aspect of our case and planned for all possible scenarios. My fiancée's health history and my past drunk driving arrests required her to do extra work. Laurie contacted the United States Consulate in Guangzhou a few times to inquire about the status of our application. Her assistant in Guangzhou reviewed all our documents and assured my fiancée they were in order. Laurie called my fiancée before the interview to help her prepare. By the time my fiancée went to her interview, she felt both confident and prepared, and she passed her interview without incident. We are looking forward to our wedding! We will have Laurie assist us with any and all legal matters up to and including the day my fiancée becomes a US citizen. She has earned our trust, and I recommend her without reservation.
Rose
Laurie is a friendly attorney and prompt in responding to email or phone call in regard to my case. I came in the USA on a fiancee visa, got married and to interview and everything but my case was still pending for over 4 years and never could have my green card until the day I got her on my case and it did not take her long to get me my green card in a prompt manner. She was very professional when it comes to her advises and information I wish I met her earlier I did not have to waste all the money for no reason. definitively if I ever need a lawyer I would hire her again and again and recommend her to anybody who needs a caring attorney. I do not have enough words to thank her.
Chris
Your spouse is in very good hands with Laurie Wu. She demonstrated time and time again to my Chinese wife and me that we could not have chosen a better visa lawyer. Laurie was extremely responsive to all our communications, and her thoughtful, insightful replies were greatly appreciated. From the beginning of the visa process to the end, Laurie worked very hard on our behalf and always completed her paperwork for the U.S. government in a timely fashion. When I bring back my wife to the United States, I will thank Laurie again and again because I couldn't have done it without her invaluable assistance and kindness. Entrust your spouse's visa application process in Laurie—a decision your spouse and you will be delighted you made.
Dimitri
We have been working with Laurie over the past few years and she has provided us great service. Immigrating is very confusing and not always clear what is required. Laurie has shown that she has a comprehensive understanding of the requirements and the system to make the process run smoothly and had confidence in her at each step. In this sort of process, communication is very important and she kept us appraised at each stage and in layman terms, we could understand. We even rehired her to help us to renew my green card two years after I became a permanent resident.
Brian
Laurie was very prompt in responding to emails regarding the case. She was very friendly and professional in all of our correspondences and phone calls. She provided useful information for my wife's tourist visa application and walked us through the case each step of the way. I would highly recommend Laurie Wu to anyone needing immigration assistance. We are definitely very satisfied with our results.
Randy
I have worked with Laurie more than once and most recently she helped my wife and I with the I-751 removal of conditions. She has always treated me respectfully. She has worked diligently for me and has always been very professional. At the same time, she has a friendly personality and has never been someone who is unapproachable. I have always been very pleased with the level of service she has provided and would not hesitate to call upon her again.
Matt
We hired Laurie Wu based on a friend's recommendation, and we are grateful that we made this decision. I've been living in China for over ten years and wanted to attend a friend's wedding and visit my family in the USA along with my wife, who is a Chinese citizen. Laurie helped my wife obtain a visitor visa. Laurie was very friendly and punctual throughout the entire process, and she demonstrated a thorough knowledge of the relevant procedures, experience with clients in similar circumstances, and ability to answer our questions and explain what we needed to know. Moreover, her fluency in multiple languages (English, Mandarin, and Cantonese) was especially helpful in our case. Initially, the Consulate denied the visa, apparently because the officer had difficulty understanding my wife's answers in Chinese. After the first interview, Laurie recommended that my wife reapply and request a different officer and that she be more assertive in explaining her situation to the officer. She did that, and the visa was approved. We would definitely hire Laurie again for future cases and recommend her to friends.
Caiyun
I will recommend Laurie to anyone in a heartbeat. She was outstanding in subject matter, highly professional, and very personable. She was always available to answer our question, return email very quickly, always very patient in the phone and provide precise advise/guidance/instruction. She knew what exactly needed to do in every step on the way and make us feel very confident in the tough situation. She analyzed every situation in details and gave us what to expect in the next step. We never had to worry for our case. She always kept us informed and made very possible effort to advance the case. She can speaks multiple language and that helped us tremendously. I will strongly recommend her to anyone and she is outstanding.
Bipasha
From the very first day I was put in touch with Laurie she was accommodating, understanding and gave me sound advice. I liked her straightforward approach and practical advice. Ours was a unique situation and she expertly guided us through it keeping us on track with what were the next steps and what we should expect. Even at times when we fell behind with the paperwork, she checked on us to keep track of our progress. Whether over phone or email she was always readily available and helped us through any doubts we might have or any questions that arose. My fiance worked with her on his end over the phone to get prepared for the interview and loved the experience. His exact words were 'She is awesome and she rocks'. We hit a few road-bumps because of the uniqueness of our situation but were guided through all by Laurie. We now have the fiance visa in hand thanks to Laurie's advice and help. We look forward to working with her in the future as well.
Alina
We are very fortunate to have Laurie to represent us in getting a K-1 VISA. Alina is an Ukrainian Citizen and she does not speak English very well, but Laurie had translator to bridge the communication gap when taking to Alina. Laurie's attention to details is impeccable … Laurie always send very clear instructions on what to do, and more importantly with the estimated timeline and next steps … Laurie also does a few things that I thought was a genius and very helpful for her customers like us … I can not share her trade secrets on this public forum, so you just have to hire her to represent you if you want to find out. Trust me, you will not regret it. We feel that Laurie is sincerely caring about us, and it shows when she always respond to our questions in a very timely fashion and more importantly make us in ease throughout the process. Last but not least, Laurie keeps checking with us and update us on our status, even checking with us on the VISA interview date on how the interview goes. We highly recommend Laurie for anyone that needs an immigration VISA. We also ask Laurie to represent us in getting tourist VISA for Alina's mother to attend our wedding. Alina's mother received a 10-year tourist VISA.
Collleen H.
I immigrated to the U.S. from Canada on a K-1 Visa. My husband and I retained Laurie after the fact to guide us through the process of my permanent residence application because I had overstayed my Visa and we wanted to make sure that we did everything right. We were intimidated by the application process as we were somewhat overwhelmed with all the requirements, and we can't imagine that anyone could have helped us through it better than Laurie did. She guided us through all the steps with the utmost of professionalism, patience, and compassion, and she kept the light at the end of the tunnel shining for us throughout. She always made herself available to answer any questions or explain anything we did not quite understand or needed clarification on. She completed all the official forms on our behalf before having us review and sign them and she lifted a lot of the burden from us. We truly feel like had it not been for Laurie, we would have surely been pulling our hair out had we attempted the process on our own. She kept excellent records on our case and was able to access anything within minutes of me asking on the occasion that I misplaced my own copies of certain forms or supporting documentation. Her excellent knowledge of the immigration process, organization, and attention to detail kept us in order at all times. We know for a fact that Laurie made the whole process a LOT less painful and we are thankful and grateful for everything she did for us. Because of Laurie, we were completely confident in advance of our final interview at the Immigration office last week. We felt that everything was order, we were totally prepared and we did not fear any surprises. The interview could not have gone any better. Smooth as butter, really. My green card is now on its way. Laurie is an fantastic immigration lawyer and I would recommend her to anyone, anytime.
Brendan
Laurie Wu is both professional and incredibly personal in her service, the best of both worlds and just what my wife and I needed in her immigration and green card process. She pays attention to all the details and make sure that you understand them, explaining in a very kind and personal manner. Without all of her help, I would have been completely lost in all the paperwork. There were also unusual peculiarities in the timeline of our case and when we needed the green card by a certain date, which was made more difficult by my wife's affiliations in China. But with Laurie's help, we got the green card just in time when we needed it! Highly recommended and will work with her again when we need to remove the conditions on my wife's green card in two years.
Jorge S.
Laurie helped us with two cases, one for my son's US citizenship and my fiancée's visa application. She was very experienced in our matter, Laurie was there whenever we had a question and replied prompted with all the information we needed. She handled our case very well and followed through till the very end. We are really glad we had Laurie help us through this and highly recommend her. Thank you!!
Joe
Laurie Wu has been my wife's and I's immigration attorney since we filed for her K-1 fiancé via about three years ago. I spent months researching, calling, and vetting numerous immigration attorneys as my wife's case was difficult due to her membership in the CCP. I finally found Laurie and after an initial consultation with her, I felt comfortable to hire her to handle out case. That was one the best decisions I have made in my life, not only did she explain clearly the expectations for the immigration process to my wife and I, she was always available to quickly answer questions or concerns we had about and during the process. Laurie helped us in getting a large amount of paperwork and documents in order and reviewed to make sure we had all the documents since missing just one could cause major delays. Suffice to say, our K-1 visa process went very smoothly considering my wife was CCP, Laurie even took the time to speak with my wife before the interview and make sure she had all the documents in order and was prepared for any questions the visa office would potentially ask. Since we were so happy with the way Laurie handled our K-1 case, we hired her to assist with our green card application. Laurie was extremely helpful in assisting my wife in getting her employment authorization, travel document, and green card. She even spent a few hours of her evening to skype with us to prepare us for the green card interview and make sure we had all of our documents – this really helped calm our nerves before a potentially stressful situation but the preparation for it with Laurie really made the interview go very smoothly. My wife and I highly recommend using Laurie Wu's services for your immigration needs – I really would not trust anyone else nor can I imagine my wife and I doing this process without Laurie's professional guidance and help. We can honestly say that for any future immigration processes we will be calling Laurie Wu.
Nataliia
Dealing with Laurie is always a great pleasure. She already helped us twice with paperwork: with K1-visa for me and then with Guest visas for my parents. And we will definitely hire her again for further steps in my case and guest visas for other members of my family. She is very organized, clear in instructions, covering every tiny detail; making sure everything is understood in a right way and paperwork filled out correctly. She is always available via e-mail, phone, skype. She is not afraid to meet tight deadlines. Great follow-up. She is very open, friendly, willing to help. Thank you, Laurie!!!
Tony
My name is Tony and I contacted Laurie Wu about five months ago to help me and my fiancée Min Li work with a fiancée visa. Laurie took every effort to be there to answer all our questions and help us every step of the way. I highly recommend this lawyer to anyone who is thinking about getting maybe a K-1 visa or someone who might need a green card. She is kind and caring about our needs. She knows how to get things done and is very professional.
Jean
Many people may have the feeling that gaining trust is so difficult—it may take years on building a trusted relationship, while losing trust is so easy—probably just over seconds. I don't think it would be ever the case for Laurie. Laurie gained my trust when I received her first email in 2012 instructing me in great detail about how to be prepared for going through the fiancée visa process, and we worked for several months since then until I received my visa to the US. After I moved in the US, I had some difficulties, and I felt so helpless and hopeless, luckily I found Laurie when I had hardest time in my life. Although I was not Laurie's customer and Laurie was very busy at the time when I found her, Laurie spoke to me on the phone and wrote me emails, I was so moved also impressed by her caring heart, inspiring words and great respect for people. I made up my mind immediately that I would like to hire Laurie again when I need to go through immigration process two years later, and I did. What Laurie did actually was far beyond an immigration attorney would do, for she cares people more than anything else, and she always provide quality service: 1. Sense of urgency and work efficiency Laurie always provides quick response no matter what I asked for. She worked out everything for me very efficiently. In the event of tight schedule that prevented her from writing back to me with detailed information, she would give me a quick update letting me know when she would write me again with more details. 2. Professionalism and knowledgeable Laurie is very professional and knowledgeable. She always gives me very clear answers no matter what questions asked, or no matter what concerns I had. When she was working on my case, she paid great attention to all details and checked everything very carefully to assure the accuracy of the information. 3. Accountability and reliability Laurie is very accountable and kept her commitment. To assure my application could be submitted as quick as possible to unload my burdens, Laurie even didn't take day off like many people did during the holiday season until the last minutes when she needed to catch up the Christmas Eve with her family. 4. Respect on people, support, and encouragement When I reconnected and talked to Laurie, I was unemployed, Laure didn't judge me and her words were so encouraging and inspiring, she always has faith that I could go back to career even I myself found it so difficult in such a new country. Her positive attitude influences me to be positive, and after I went back to career, she provided me with so strong support through her loving heart and doing more beyond the scope of her responsibility—she even helped me with dealing with car accident and other personal stuff. 5. Diversity and inclusive Laurie speaks English and Cantonese, and some Mandarin as well. Culture difference may add to people's difficulty for communication. Laurie has excellent knowledge of cultures cross nations and has great experience in dealing with culture difference. I had zero problem of communicating with Laurie, actually in the course of time I have been enjoying more and more working with Laurie together on my immigration case. In addition to her communication skills with me, Laurie has shown effective communication with immigration office. She rescheduled our finger-print when the original date and places didn't work well for us and made things very easy for us. I agree that building trust usually is not easy, but Laurie is the attorney I can put full trust on and she is the one who I would like to refer to my friends or anyone else who needs immigration help. After having gone through everything, I simply felt relief that I found Laurie and had her help.
Nyook L.
My son is born in the United States and we last saw each other about 9 years ago, when he was 13. I will soon get to see him thanks to the help of Laurie. Laurie is a responsible and professional attorney. She carefully explained the visa process to me. When I had any questions, she gave a detailed reply and responded quickly. She is an attorney who deserves a recommendation. I hope to be able to meet her when I arrive in the United States.
Him
It was a total pleasure to work with Laurie throughout my wife's entire K-1 visa application process. From the initial filing of the petition to the final receipt of her Green Card, Laurie showed unbelievable professionalism in the handling of my wife's case, and her attention to detail was impeccable when reviewing our paperwork. She guided us through the entire nerve-racking process expeditiously and with great care. All we have to do was fill out a few personal data surveys and round up some documents. Laurie would take care of the rest. No headaches at all! Laurie always returned our emails promptly, and we never have to wait more than 24 hours for a response to our questions. Best of all, I feel that Laurie really cares about her clients, and we will definitely be hiring her again when my wife will be applying to have her conditions removed in two years.
Viktoriia
My husband and I thoroughly enjoyed working with Laurie. She provided very good support throughout my Immigration process. Laurie was/is always very readily available, and overall a great representation of the law working for people and personifies the highest degree of professionalism at all times. I'm so thankful to now be a permanent resident in the United States! I thank Laurie for being a part of making this happen. Viktoriia and Todd.
Yevheniy
From the day one Laurie took a great care of my family immigration case. She was prompt in replying back to emails, easily accessible, and had a friendly demeanor. Laurie was very flexible in taking calls during evening and weekends. Moreover, she was willing to do multiple interview preparations until my family felt comfortable. I highly recommend using Laurie's service because you will get invaluable support, understanding, and stress-free steps in reaching your goal successfully!
Ted
Choosing Laurie to help me with my fiancee's K-1 visa application was one of the best decisions I've ever made. She was very responsive to our questions and needs and provided helpful guidance on every step of the way. As a result, the application was completed much more smoothly and quickly than I could have imagined.
Joel
I found that Laurie was very helpful in this process and always returner my Emails within 24 hours even if it was on holidays and weekends. Laurie was friendly and very professional in all aspects of this process. We never had any problems and Laurie was very precise with any information that she gave me. When my fiancée got to the USA Laurie sent us a nice email wishing us a successful marriage. I would recommend Laurie to anyone who ventures on this Journey of bringing their fiancée to the USA , she was helpful during and after my fiancée arrived in the USA
Li
My wife's tourist visa was rejected 3 times prior to finding Laurie, She is very detailed oriented, responsive and knowledgeable about the subject matter and gave us detailed instructions on material preparation and process. I would highly recommend Laurie!
Joe
Laurie is excellent. Responses to email quickly and really cared about us getting our visa. Very helpful with what to except at the interview and with the review of all our paperwork. She felt more like our friend then our attorney. You will not go wrong by hiring Laurie to bring your loved one to the US.
TJ
Ms. Wu was extremely helpful in obtaining a Visa and Green Card for my wife. I have heard horror stories of this process but experienced nothing but positive outcomes under her guidance. She promptly and thoroughly replied to any inquiry I had. Her assistant in China prepared and accompanied my wife before her final interview - an extremely comforting service. Laurie is friendly - and treats your case with utmost care.
Former Client
Ms. Laurie Wu helped my fiancé and I with his fiancé visa case. We consider ourselves very lucky to have her assistance. She came to successfully assist us in our case with a significant burden of proof: an older woman living in the United States applying for her younger fiancé from the Middle East. Originally, I had spent weeks taking to immigration lawyers from different states (23 to be exact)! After speaking to them all, Laurie Wu stood out the most. We could not decide on a very important question: should we apply for a fiancé visa or apply for a marriage visa. Some attorneys sounded very pessimistic about the outcome of our case and some advice on the type of visa without knowing much about us. Laurie asked us many questions regarding our background and was the only attorney who asked me to send her a picture of us together before she advised on which type of visa would be best for our case. Then, Unfortunately, I was ill-advised by a close friend to go with a big name attorney she knew, an attorney who supposedly had years of experience and a big firm! It was an awful experience during which 5 months of our precious time was wasted and accomplished so very little. We were going through lots of frustrating days when I remembered this soft-spoken lawyer, the attorney originally I had liked. Laurie Wu was all we had hoped for in our attorney. We found her to be very informative, trustworthy, honest and intelligent yet humble and easy to talk to. In a case of age difference and the woman being the older partner, she remained very professional, nonjudgmental, and supportive. Time and time again, I was surprised by her logical thinking, clear vision, and attention to details. With her calm, organized and logical thinking, I always felt much better after talking to her. Despite some of my challenging questions, she always provided answers and proposed solutions to my satisfaction. Her prompt written and oral instructions were always clear which helped us tremendously with the process. I don't know what more to say than having her was vital to our case. She was simply there for us, and we will never forget what a tough and detailed process she got us through and the support she gave us. Now, we are delighted to work with Laurie to finish up my fiancé's adjustment of status papers.
Stephens family
We found Laurie to be very intelligent, knowledgeable, trustworthy and dependable. Laurie explained to my wife & I every detail, the process and results. Laurie helped my wife to apply and receive her temporary green card. We did hire her also for my wife daughter's case. Laurie does a great job, she always care about give us new information about the case before we ask about it. So we feel that we don't have to worry about anything. Also, her fees are reasonable compared to others lawyers.
Terrence
Laurie helped in getting my wife her citizenship. Laurie explained how the process works, she kept us updated thru the entire ordeal. I found Laurie to be very knowledgeable, trustworthy and dependable. Laurie knows and performs her job very well. Because I was so pleased with Laurie services, I been referring colleagues to use her services for future endeavors.
d.culig
Laurie was referred to me by one of my relatives who was very pleased with the results they got. Laurie is very prompt to return calls and emails. When we talked I never felt I was imposing on Laurie. She was always patient and gave me as much time as I needed. Laurie went above and beyond her obligation as an Immigration lawyer, she completed at least three things that were to be done by me. One example is the online green card fee we needed to pay. My wife and I had so much difficulty navigating the USCIS website. With a phone call to Laurie, she was able to help us submit payment while we were on the phone. I accompanied my wife to her Embassy interview and we felt well-prepared due to Laurie's help. About 2 weeks before the interview, Laurie spent more than one hour with us on Skype for our final preparation, reviewing all the documents again and reviewing the questions the Embassy will likely ask us. Laurie pays attention to details, we had everything we needed. The interview went smoothly. My wife and I have been very pleased with the help we received from Laurie. My wife and I would both recommend Laurie.
Zhang family
WE were very glad to get the chance to have Laurie Wu, as our dependable lawyer for our case. She is practiced in her lawyer's work and has a clear-minded head. Especially, she had grasped Chinese well, in writing and talking, except her mother tongue-English. She is responsible for everything in detail of our case. She promptly notified us of updates, and explained each step to us clearly and timely, to give meticulous guidance on handling it over. She is response to and carefully read all our, generally, long-winded Emails very quickly. She is easy to communicate with and has a friendly personality. We are sure it is our pleasure to recommend her for my friends if we get the opportunity.
Craig
Laurie Wu helped my wife and her son from China with their immigration visas. It was extremely helpful that she is fluent in both English and Mandarin. I think because of our following her advice, the process went smoothly. She is also helping with our permanent green cards. I have highly recommended her with much success and would do so again.
Robert
When we came to Laurie for help, we felt jaded and cynical about working on our immigration challenges. We were pleased with Laurie's "bedside manner". Instead of "prepare this", "fill out that" and "sign this", she asked us questions about our motives, our history, and our future goals, and then she tailored her service accordingly. This was a refreshing difference from what we had expected. Laurie was very responsive via email, phone, and in person and followed up with us whenever we missed something or dropped the ball. It made the whole process feel easier, less painful, and less stressful.
P. Dworak
I am very pleased with how Laurie Wu has handled our case. She is very prompt with replies and easy to get in touch with. She is professional and knowledgeable and also easy to talk to. She seems to really care and has gone out of her way to support us and be available when issues arise. I would highly recommend her.
Jing
Attorney Laurie Wu was my attorney for my K-1 visa and green card. I am thankful for her sincere work manner and constant follow-up and updates. She speaks Cantonese and Mandarin and explained the information and answered questions to my understanding. Before each interview, we spoke on Skype or telephone and it gave me more confidence. My husband and I are very satisfied with her work and will ask her to help us again.
L. Shnayder
Lawyer Laurie Wu represented my wife in case of adjustment of status based on the marriage. We contacted Laurie for an initial consultation and from the first meeting she made us feel at ease. Laurie guided us through every step and continuously informed us on the status of the application. Laurie made this process to be very interactive and at the same time seamless. During the whole process, she was very accessible. All my calls and emails were properly answered. Besides providing legal support, Laurie gave us hope and showed us compassion. We still keep in touch with Laurie and she provides us a lot of valuable advice.
Terry
Laurie has worked on two immigration matters (green card and citizenship) for me and my wife in the past 3 years. She has always answered emails and calls promptly, usually within an hour or two. When the USCIS made a mistake and scheduled my wife's citizenship interview halfway across the country, Laurie followed up with USCIS and kept us updated on the progress. She guided us through the entire legal process, provided constant updates and we could not be happier with the results!
garyandjudyare
Laurie is simply fantastic. She took the absolute best care of our immigration petition, right down to calling my fiancee in China to assist her with forms and interview preparation. And yes, she also speaks Chinese. She is prompt, very thorough, and hit every single expectation I had. She told us what to expect and never once failed to deliver. I could not provide a stronger recommendation.